Today Security is Everything - leaving your spreadsheets exposed to hackers and content thieves is not an option.
Introducing Spreadsheet Sentry, the breakthrough technology that puts all unauthorized spreadsheet users on notice, with a comprehensive and robust wall of security for your Microsoft Excel® spreadsheets.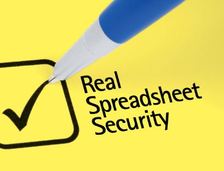 In this information age we live in, it's truly a remarkable time to be sharing information, distributing content and moving businesses forward.  There's never been a more exciting time to be growing and thriving as a company, as the opportunities and earning potentials are endless.
However, this is also a time of unprecedented security breaches, content theft and data loss, which can result in a serious compromise of the information you worked so hard to create and verify.
Fortunately there's an innovative solution that's revolutionizing the industry: Spreadsheet Sentry.  When you use Spreadsheet Sentry, you'll be able to create secure versions of your Excel spreadsheets, which will give you:
Location security:
Only authorized users are able to use your spreadsheets.
Content security:
No one, not even authorized users, will be able to edit or view your spreadsheet formulas and confidential data.
Spreadsheet Sentry employs innovative technology which is incredibly easy to use.  But don't let this simplicity fool you, because our system is truly amazing in its raw security power.
Just imagine knowing that your spreadsheets are secure.  You'll never again have to wonder if your formulas are going to be reworked or stolen, if your confidential data is going to seen by unauthorized (or even authorized) users of your spreadsheet, and if the integrity of your spreadsheet calculations will be compromised.
This is total, 100% lockdown of your most valuable work.
With Spreadsheet Sentry, you'll be able to:
prevent unauthorized users from using your spreadsheet;
allow authorized users to use your spreadsheet as they normally would;
have ongoing security

wherever

and

whenever

the spreadsheet is used;
individually encrypt the spreadsheet formulas so no one can compromise them;
incorporate strong encryption (essentially unbreakable).
If you can answer Yes to these 5 questions, then Spreadsheet Sentry is perfect for you:
Do you use Excel spreadsheets?
Do you have spreadsheets of significant value?
Do you have employees? (More details: Theft of spreadsheet IP)
Are you aware of the potential security weaknesses of Excel? (More details: Limitations of native Excel protection)
Are you in any of these industries: accounting, engineering, manufacturing, construction, insurance, ecommerce, or any industry that uses technical or confidential spreadsheets in any capacity?
Spreadsheet Sentry has a robust platform that provides you ease of use, simplicity of implementation, and yet incredible potency of its security, all in one package.
We understand that you are a forward-thinking professional who is concerned about preserving the integrity of your proprietary intellectual property.  We explain this to you in plain language, not tech-speak.
Trust your files to Spreadsheet Sentry and, while spreadsheet security is our number one priority, you'll also benefit from:
calculation audit:

providing peace of mind knowing that your spreadsheet calculation integrity has not been altered since encryption;

data hiding:

enabling commercially or technically sensitive data to be incorporated and used within the spreadsheet, but preventing viewing or editing by all users.
At the end of the day, it's about trust.  With Spreadsheet Sentry, you're placing your trust in a proven system that will protect you and your data - forever.  This is not a time to cut corners.
Click here to download Spreadsheet Sentry Personal, and start sleeping better tonight, knowing that your files are under maximum protection.
Please note that Spreadsheet Sentry licenses are no longer available for purchase or upgrade.
More details:
Theft of spreadsheet IP
Limitations of native Excel protection
Content and Location Security
Benefits of using Spreadsheet Sentry